Author Archive
One of the things I find fascinating about Stack Exchange is that we are a global community. The single interest of cycling brings us all together, but beyond that, what we mean by cycling, what our cycling entails, and what environments we cycle, is probably different for all of us. I've often looked at a user based in Australia, for example, and wondered about what roads (or trails) they ride.
So I took this opportunity to go out with my camera, and to document one of the routes that I commonly ride. My home village is Downton, south-central UK. It's just a few miles south of the city of Salisbury, if you ever came to the UK and visited Stonehenge, you're pretty close. (Note, though, that there is absolutely NO ABBEY in Downton! I've never seen this show but trust me, if you visit Downton because of it, you'll be disappointed)
We're right on the northern tip of the New Forest (which is actually a very old forest - it was given the name following the Norman Conquest and was maintained as William the Conqueror's hunting paradise). These days, the New Forest is a national park, which is great in terms of preserving the environment, and literally teems with cyclists, especially at weekends.
My route is quite a short one, just shy of 40km (25 miles) and basically takes me south along the edge of the forest, then north-east into the forest itself, finally I head north along one of the "main" roads, then out of the forest onto a plateau which sits above Downton. Lastly I have a short descent into the village itself, and home. It is tarmac all the way, and I do the route on a road bike. I'm not a massively fast rider, I'll generally average 25km/h but within that there's a bit of variation, in terms of climbs and descents. Neither of these are particularly massive - we're not in the Alps here!
To give and idea, and a map, here's a screenshot of the route as seen on the RideWithGPS site.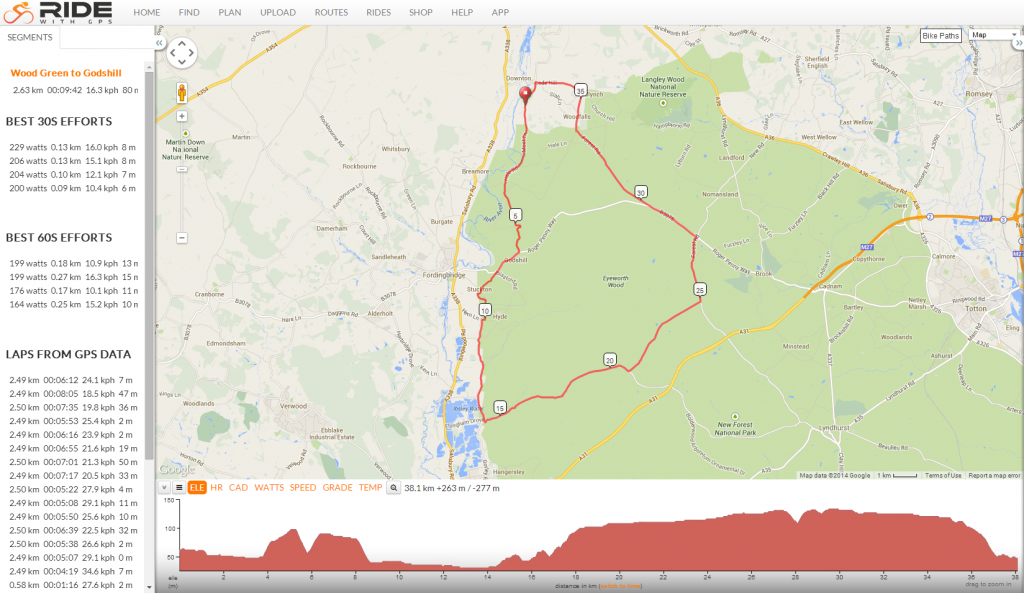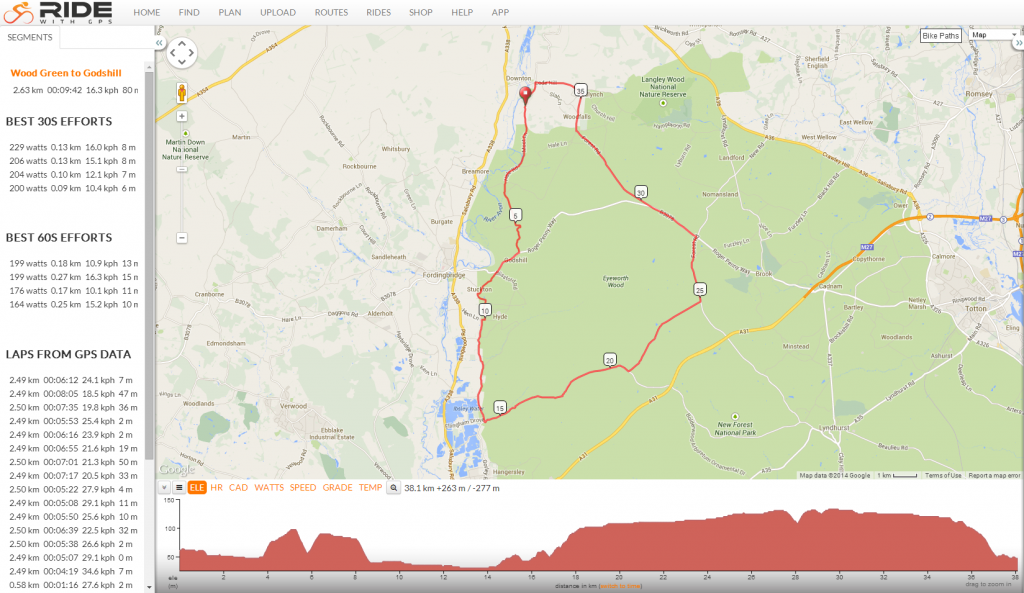 First off, we head out of the village over the old railway bridge. The village was on the line between Salisbury and Bournemouth, from the 1860s right through to the 1960s. To save money (the infamous Beeching cuts) the government then ripped up miles of track, but did at least leave us a bridge to remember it by.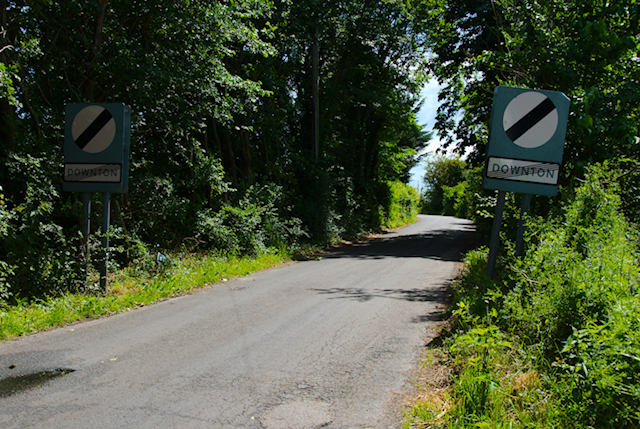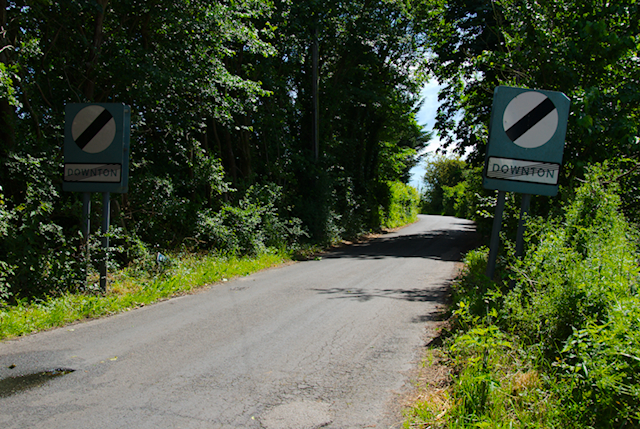 From this point, we're straight out onto country lanes.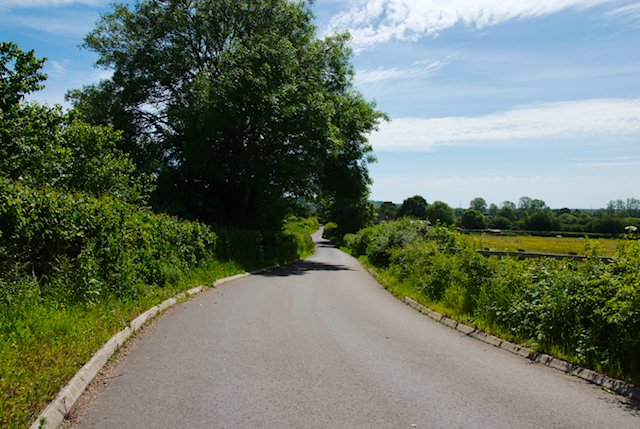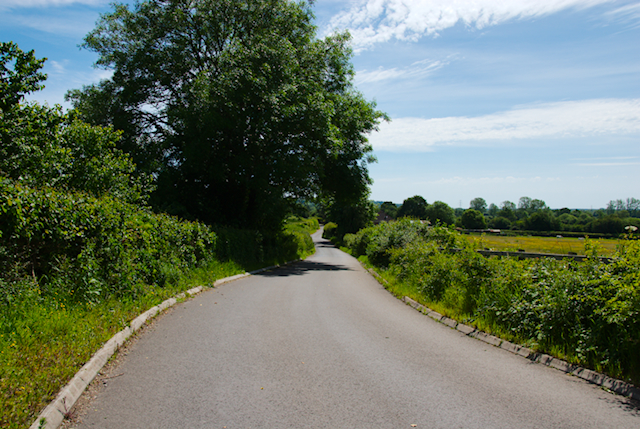 The road we're on (a narrow, "C" class road) actually runs parallel to the A338 (the main road between Salisbury and Bournemouth) and the River Avon. Absolutely beautiful at this time of year, but back in January was very prone to flooding. In fact, most of the roads we'll ride today are "C" class, but this stretch is in the worst condition due to its proximity with the river.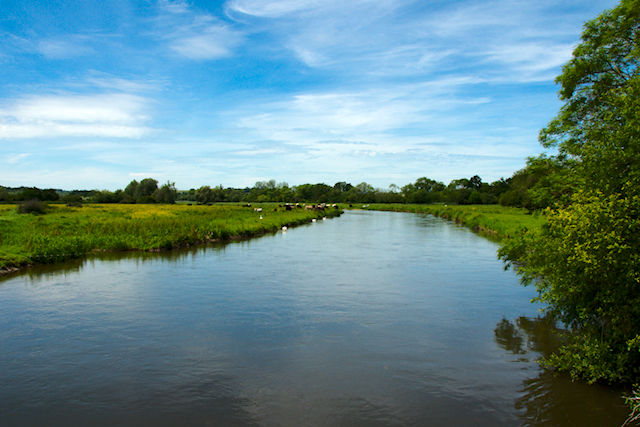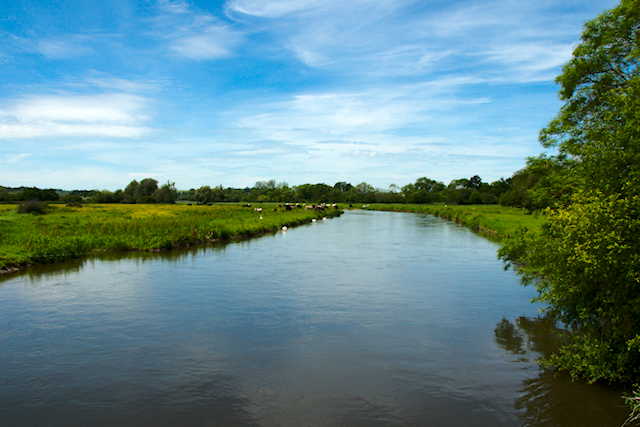 Of course the wetness of the roads contributes directly to their quality. This particular road is a nightmare even in the car, let alone with no suspension and 23mm tyres!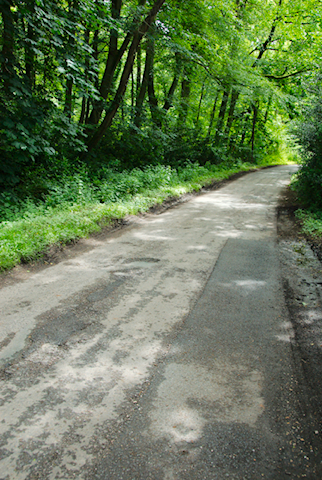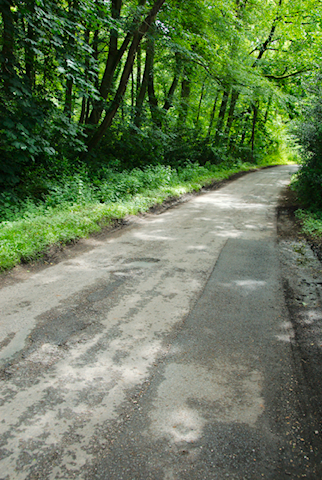 So we lump and bump our way down this road, and pretty soon we're at the next village. Wood Green. And our first man-made obstacle, the cattle grid. If you're going to cycle around here, they're just something you have to get used to (I think there are 4 on this particular route). Bumpy, slippery when wet, but as long as you coast in a straight line, with your butt off the saddle, you're fine.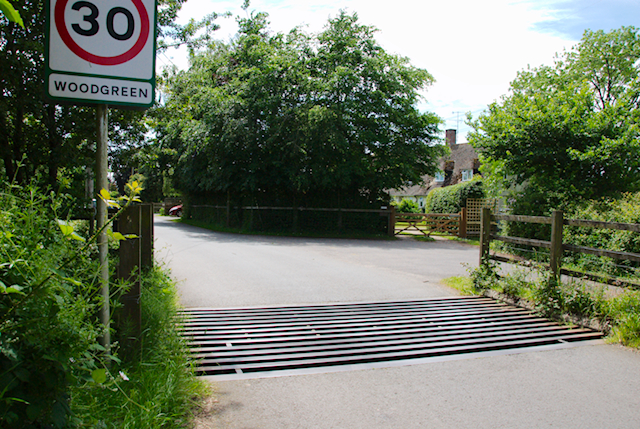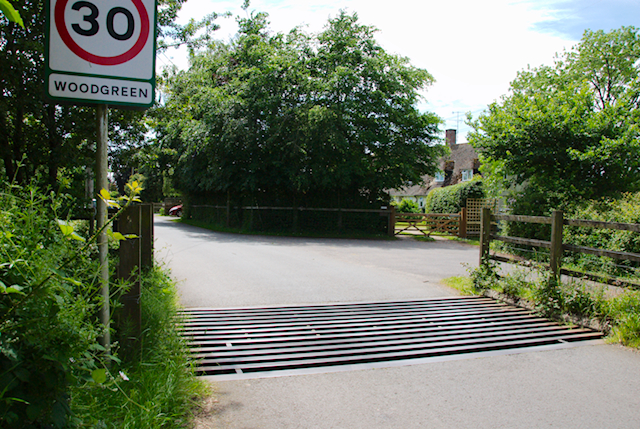 The forest "proper" is on a plateau, and coming out of Wood Green we have our first climb. Certainly enough to make you puff, the gradients are up to around 8% but the climbs are only hundreds of metres in distance, not kilometers.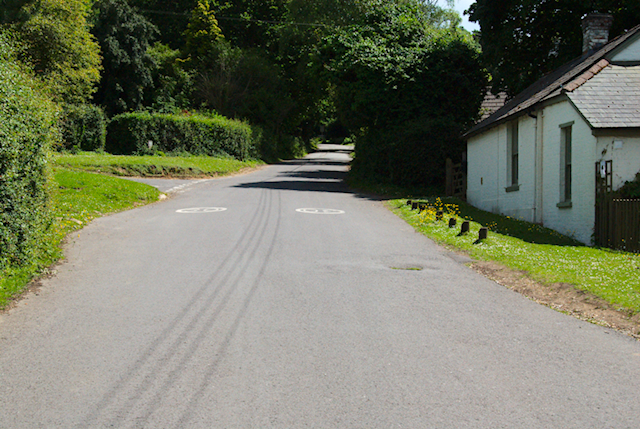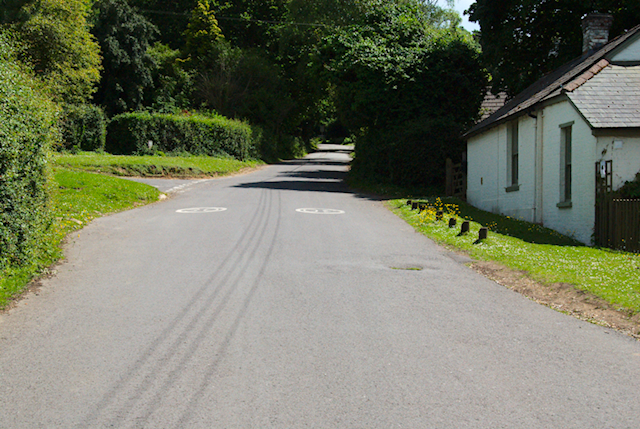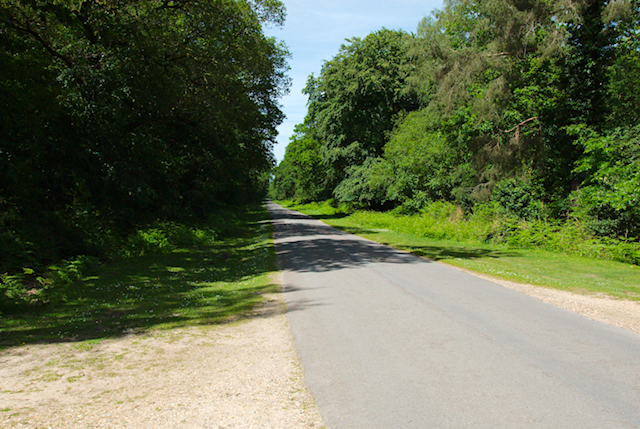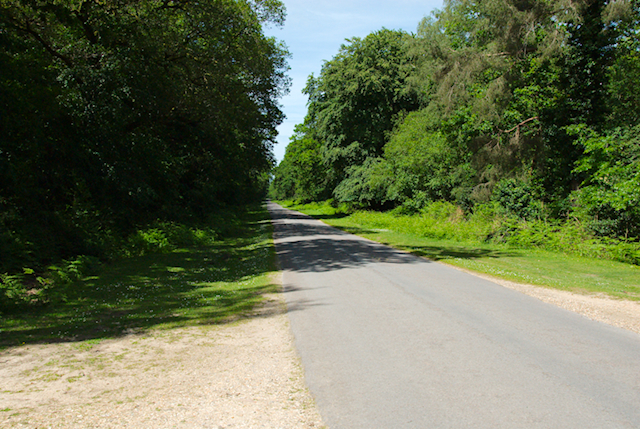 We're headed toward Godshill, but we're not finished climbing yet. After the gentle climb out of Wood Green, we have quite a fast descent down to a ford.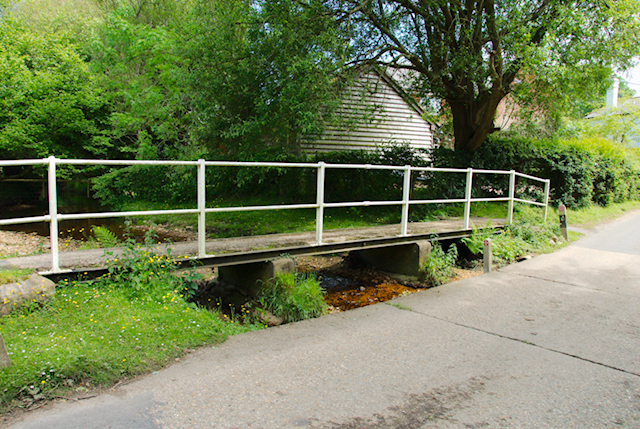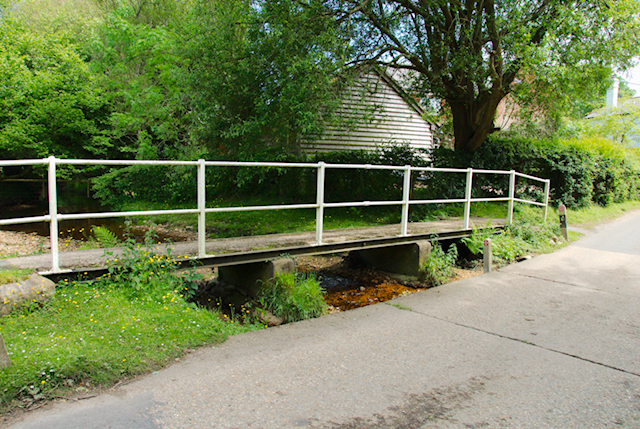 Again, benign at the moment, but the water can comfortably come over the road, especially in winter. I'm not sure my deep (9cm) rims could actually get pushed over by the flow, but I'm not inclined to find out and have a couple of times decided to get off and use the footbridge.
Through the ford, we need to get back the altitude we just lost, with another short climb (up to maybe 8% again) to Godshill. We're now on the plateau, and the first thing we do is descend it again - for the next few miles we'll run south along the edge of the forest, on low ground.
Through the village of Stuckton, we cycle down to North Gorley. This is a typical village for this area, with village green, tea room, and pub. At this time of year the place is picture perfect, but in winter there is a big risk of floods.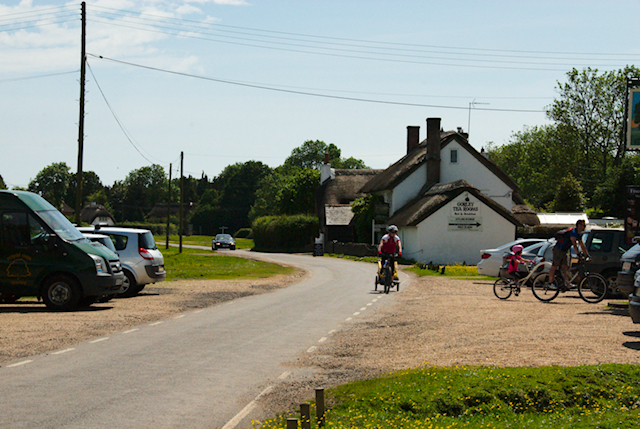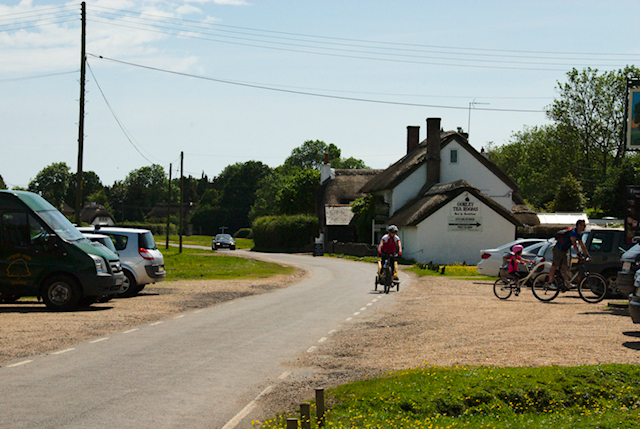 Straight on to South Gorley, and did I mention the animals? Cattle, ponies, donkeys and even pigs roam freely around the forest. I had one occasion when I spooked a pony and it started chasing me. That was some sprint! Fortunately (just as well) the cattle I saw today were a bit more indolent.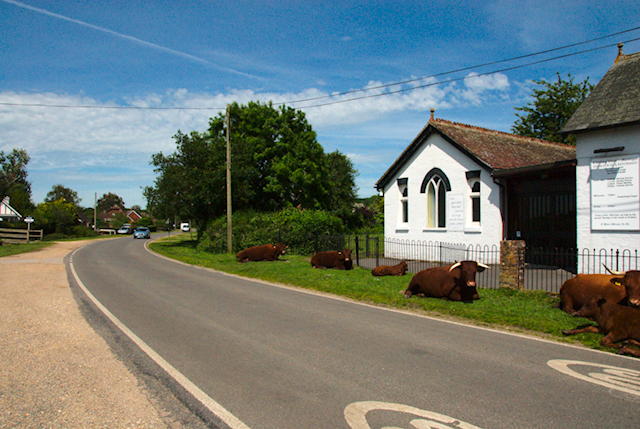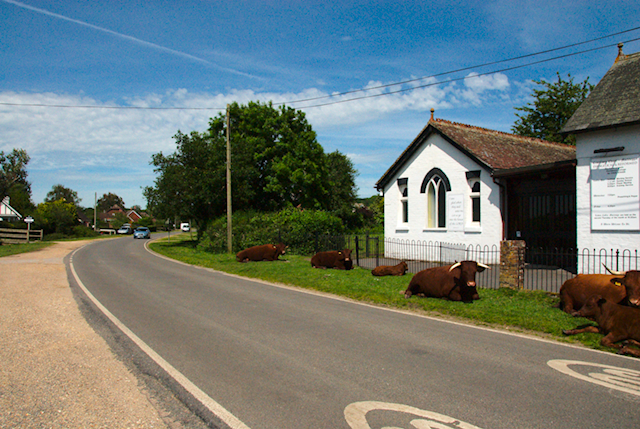 From South Gorley we head down to Moyles Court, where we turn left and start climbing once again into the forest. There is very little traffic and, on a sunny day, these roads are idyllic. It's no wonder that this is a very popular location for organised rides (and races).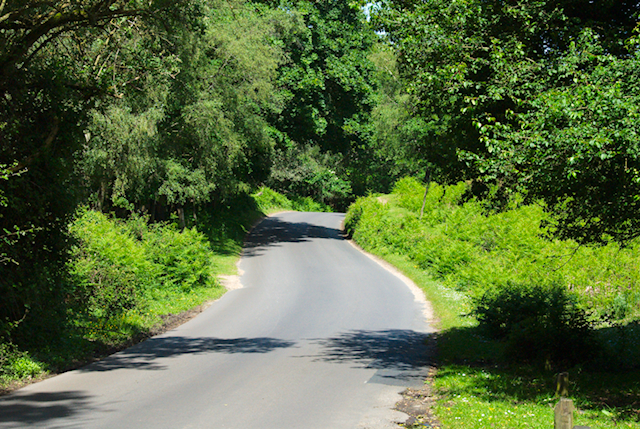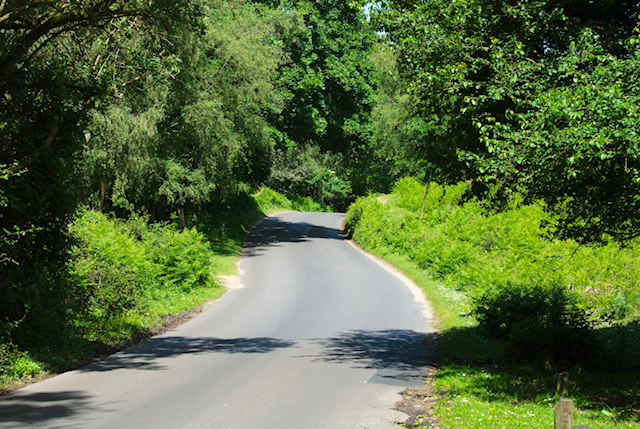 We're still climbing, and as we gain altitude the environment changes from being wooded, to more like heathland.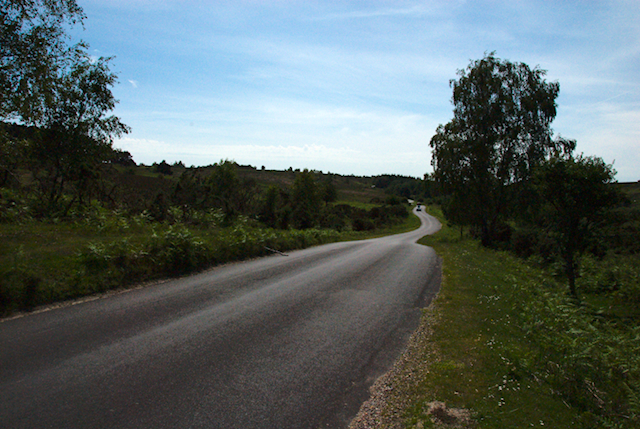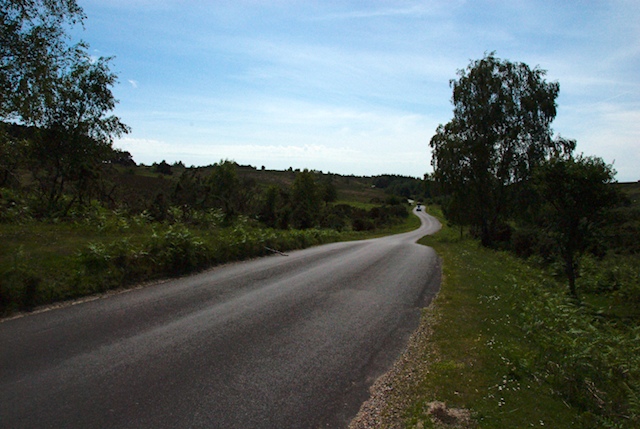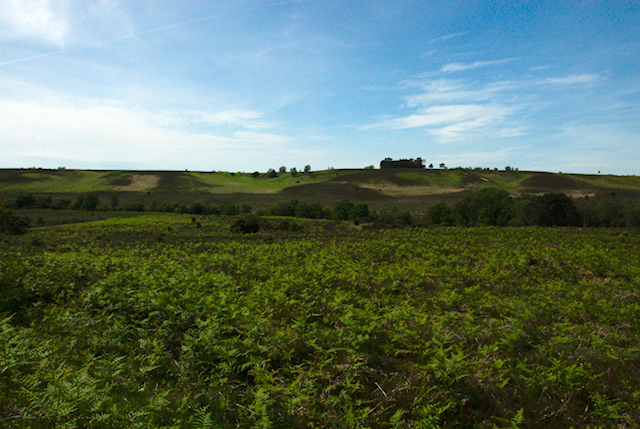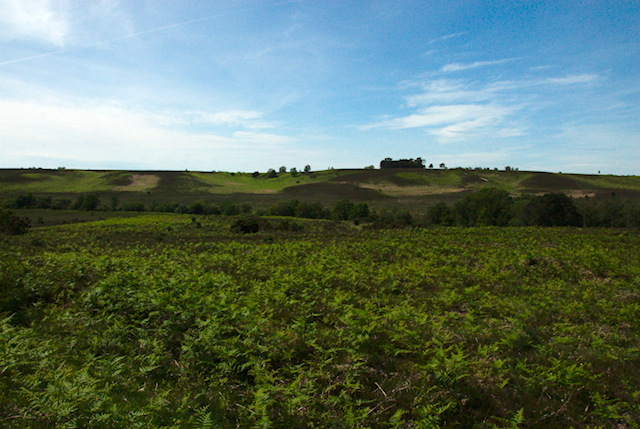 Looks beautiful, doesn't it? Now think about midwinter, and the proximity here to the coast (only about 20 miles, with no high ground to act as a windbreaker). So in the winter, this route can be very blowy, with little cover and the Atlantic winds sweeping in. But I'll worry about that in six months time!
Onward and upward, the final climb onto the forest plateau is one of those climbs that reminds me how I have come on as a cyclist. When I first rode this route, a few years ago, this was quite a challenging climb. Now I just sit in a low gear and spin, my cadence nice and high, and I wonder when I'll get to the steep bit!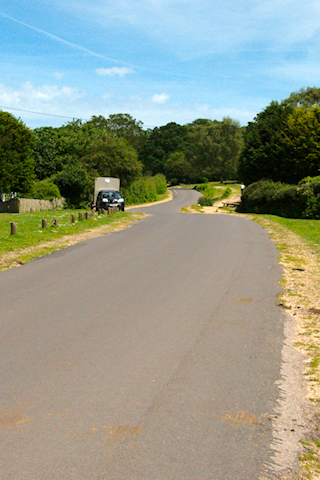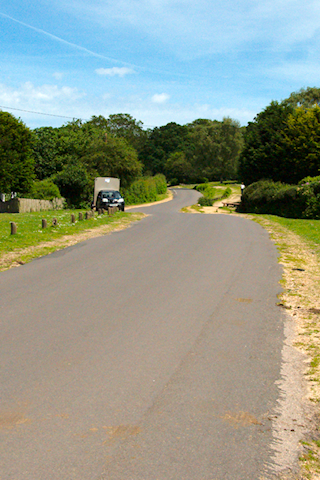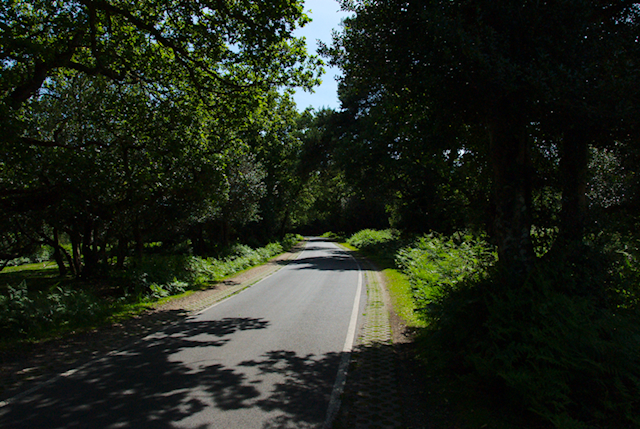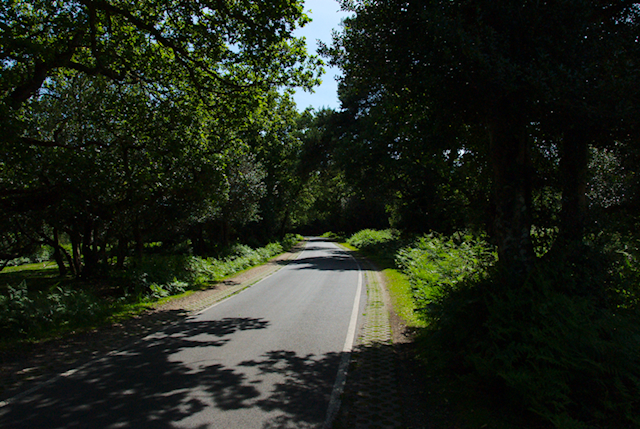 Again, the trees thin out and we are in heathland. Again, imagine when the wind blows! Even at this point, we're still climbing gently. The road here is just about one car wide, with pavé on either side to allow passing. As a cyclist, you do have to keep your wits about you as regards oncoming traffic - the number of vehicles who see you as "just a bike", and refuse to move off the tarmac, staggers me. Don't they know how narrow my tyres are?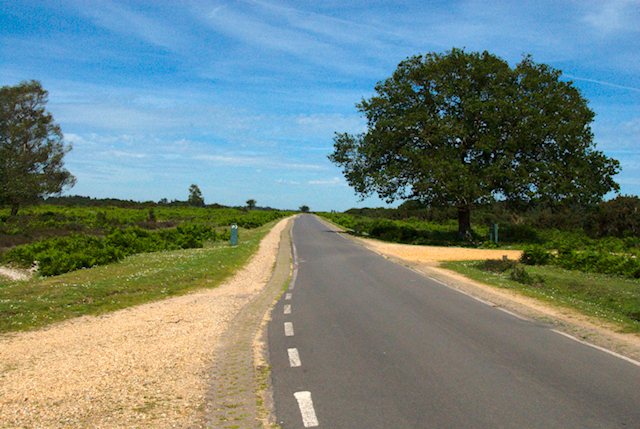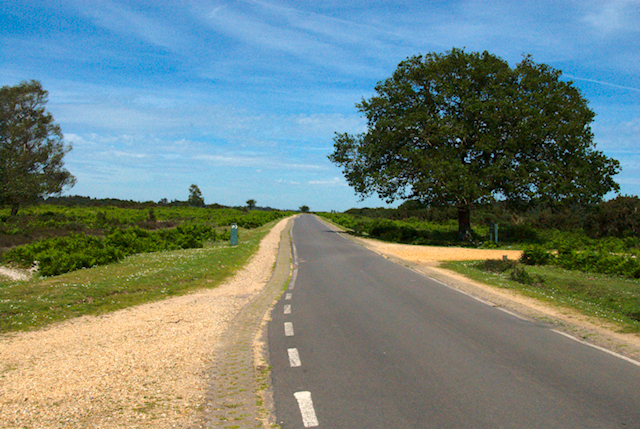 On the plateau once again, we come to my favourite part of the course. A lovely 5km run, with long straight stretches, and it is the one place on the course when you can really feel "fast". And there's no gravity helping you out, this is just leg power! In my case, I can maintain something like 35km/h with no wind. OK, not so fast by some peoples' standards, but its all relative, and I bet the feeling of exhilaration is the same.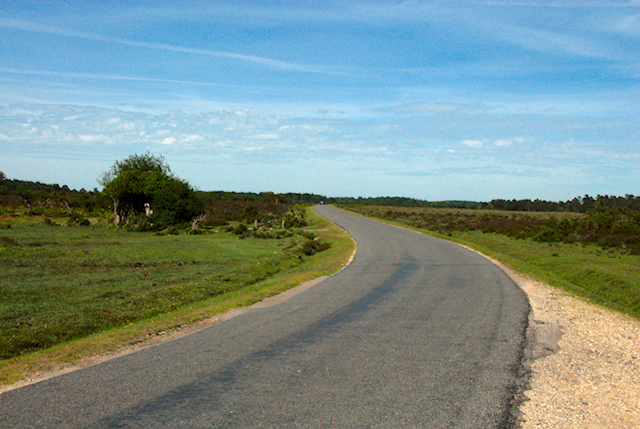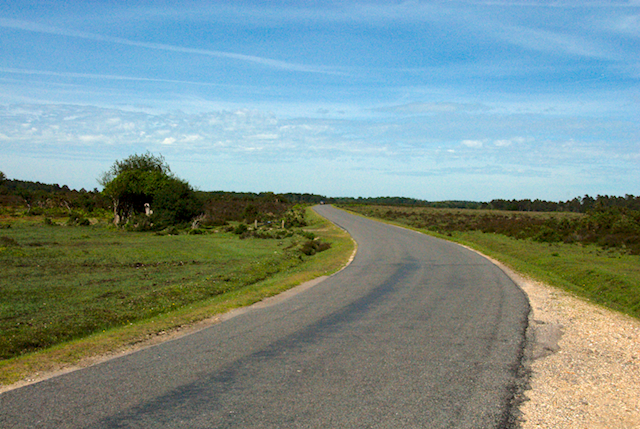 There's a bit of history here too. Nothing left on the ground (as far as I can tell), but check out the aerial photo: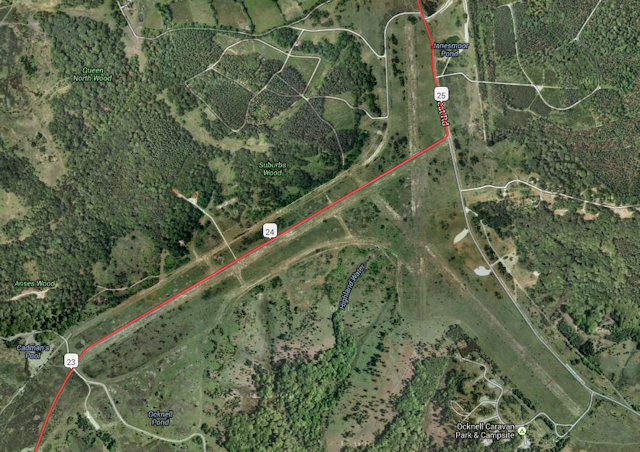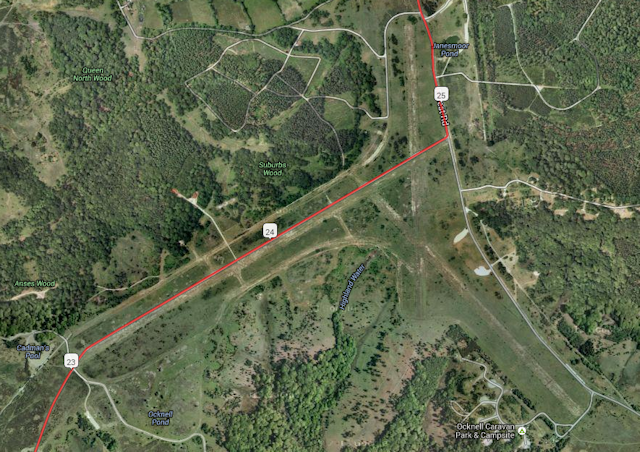 The red line shows the road, and yes, one of the reasons that you're cycling in a straight line is because you're on what used to be a runway! This is RAF Stoney Cross, dating from the Second World War, a home to both RAF and USAAF bombers. (Actually, not far from here, there is and old bombing range, where the targets are still visible, mocked up submarine pens etc.  Check out this link, but you'd need a MTB to explore this one.)
Seventy years on, everything is that much quieter: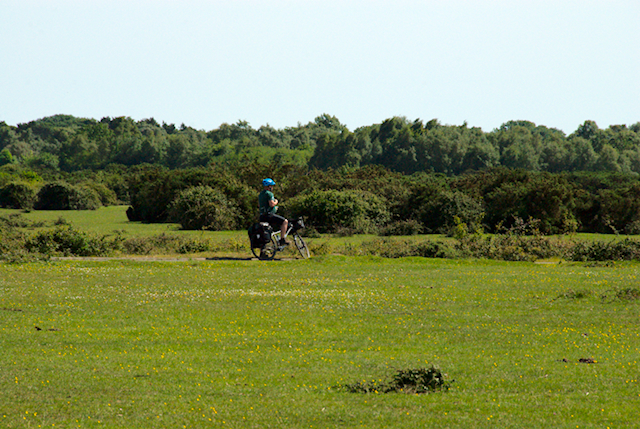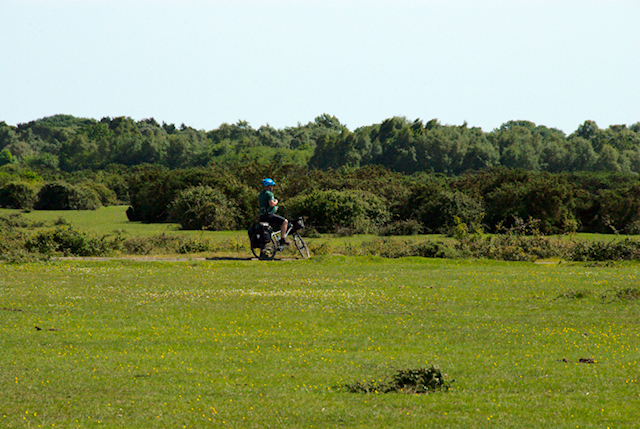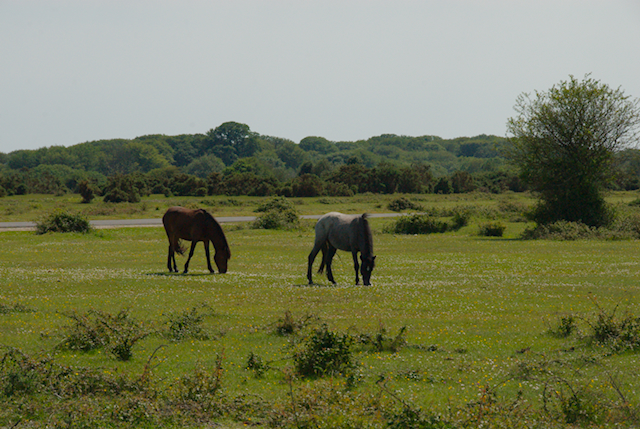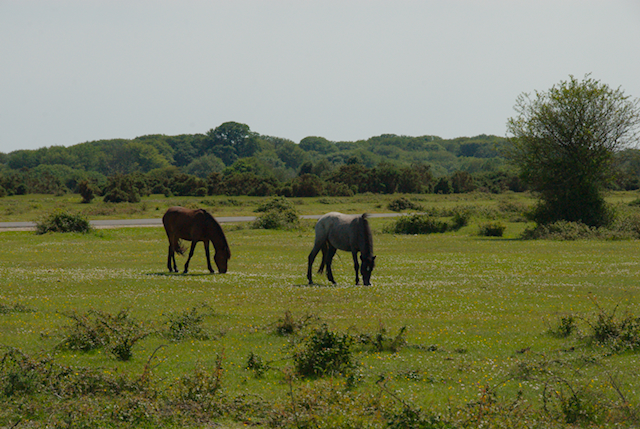 From here, we continue past the village of Fritham to the B3078, the Roger Penny Way, where we start heading north. This road curls down from Fordingbridge and beyond, down to the motorway, so is pretty poplar and is the only part of the route where we can expect traffic. Fortunately the roads have speed and weight restrictions, so you won't have to contend with juggernauts, but certainly you can expect to have cars pass you.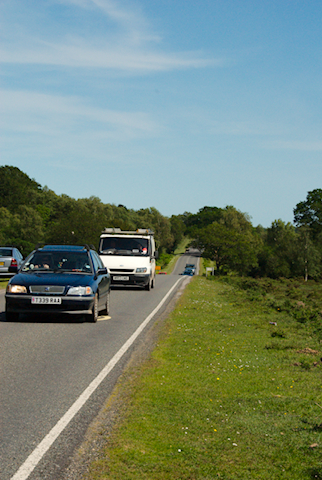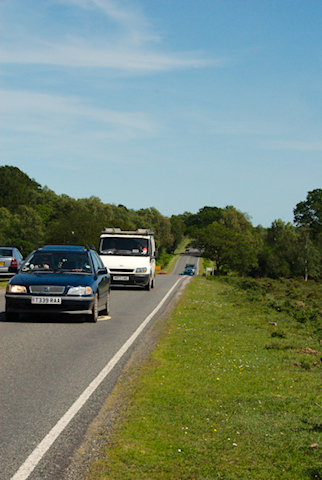 We cut off the B3078, onto the B3080 which takes us out of the forest, and we run for a few miles along the ridge above Downton. One last bit of speed - descending Lode Hill (50km/h) - and we're back in Downton and home.
Summary
Total distance: approx 38km, or 23½ miles
Time to cover: anything from 1h25 to 1h45, mostly dependant on the wind
Terrain: mostly pretty flat. There's probably only one challenging climb, in the early part of the ride from the ford up to Godshill, but this is only a couple of hundred metres in length.
If this article has sparked your interest, you'll be pleased to know that there are many roads just like this throughout the New Forest. Even more, there are (maintained) trails for people who prefer offroading. See the official visitor web site for more details. All the places mentioned above are real (I've tried to put Wikipedia links everywhere), and can be easily found on a map.
If you want to get more of a feel for the actual route I took, including a profile, head over to RideWithGPS.
In the UK, the "governing body" for cycling is British Cycling. They are responsible for a vast array of organised cycling, up to and including the GB Team. Furthermore, in the last couple of years, the broadcaster Sky has become involved in sponsorship in a big way, not just the Sky pro team, but also at a more grass-roots level. One of the results of this collaboration is....the Skyride. There happened to be one in my nearest big city, Southampton, last weekend, so I popped along with my camera (and my bike) to see what it was all about.
The basic principle is that you have a shortish, closed circuit - this one was around 7.5km or 5miles and was available for four hours. The route comprised a mixture of roads and paths through municipal parks. So as not to bar traffic from the city centre completely, at certain intersections manned traffic lights were set up to alternate priority between motor  traffic and cyclists.
The circuit is made more interesting by having various attractions along it (not least a stall giving away yellow bibs!). In one square, this included various demonstrations of "bike power":
So straight away, there is a lot going on which will keep kids interested. And the "family" aspect is quite central to the event.
There was also a variety of "bikes", some of which it was possible to try out. These included recumbents and unicycles.  We also saw a couple of penny farthings:
Of course, all this cycling was thirsty work, and in one of the parks was a refreshment stand, accompanied by a Sky tent and a "check up" stand run by Halfords, who are probably the UK's largest auto and bike chainstore.
At the Sky tent, the highlight attraction was one of Chris Froome's Tour de France bikes:
and they also had some electronic shifters/derailleurs on display - I've only ever used manual chainsets before, but the smoothness of this mech really has to be seen to be believed.
In Summary
A great event for families. Closed roads make it safe, and there is plenty for kids to do to hopefully get them more interested in cycling

Great also for nervous riders, of which my wife is one. She has seen the health benefits I've got out of cycling and would love to join in - but she gets easily spooked in traffic and never feels she has total control over the bike.
The lap distance is ideal. If you're a fitter rider, you just ride more laps. We rode 2 laps, or 10 miles - by my wife's standards that's not a bad bit of exercise. Unfortunately you do see people racing to an extent, although the organisers do emphasize that this isn't allowed.
But be prepared for lots of people to be around. At the event I attended they estimated there were 10,000 people (but this was over a 4-hour period. There weren't 10,000 people on the course all at once, although it did feel like it sometimes). This means that bottlenecks can and do happen, especially on narrow roads, lights or the slightest gradient, and there's nothing you can do except stop and wait. So if you're wanting to do a "proper" ride, forget it and go someplace else. This event is for fun only.
In a similar vein, you have to be prepared to be riding amongst people who have no road sense whatsoever. They will pull out or block you without warning. Largely this is kids, and to be expected, but a significant proportion of grown-ups too. I can only really describe it as the closest I've felt to riding in the centre of London, without riding in the centre of London.
It all started with a bacon sandwich, back in June. I'd gone out for breakfast in my local town, and being on my own for the day, popped into the newsagent to get myself something to read. I spotted the Tour de France supplement and was sorted.
I hadn't really paid any attention to Le Tour before this. I'm not sure why - I always follow it avidly on TV, and have visited stages before in Paris (Pantani in 1998), and in both London and the Pyrenees in 2008. But this year, I knew nothing until I started reading. Straight away I saw that there was a stage finish in the Breton town of Saint-Malo, in northern France. Furthermore, the next day there was another stage - a time trial - within striking distance. Saint-Malo also happens to be a ferry port, and is one end of a major route between the UK and France. The other end is at Portsmouth, only a 45-minute drive from me. Doing my best to get more information through my smartphone, I started to hatch a plan...
Fast forward a month, to the evening of Monday 8th July. A rest day on the Tour, but a hive of activity at Portsmouth, where I am with-bike, waiting to board the ferry. Normally these ferries heave in the summer months, with Brits taking their families, cars and caravans over on holiday. You'll see cyclists too, in fact I've done it myself, but possibly only a handful on any one crossing. Tonight, however, was a little different. Over 100 bikes on the quayside, not to mention the cars with bikes on their racks. And flags, lots of flags. Union Jacks which show instantly the effect that Brailsford, Wiggins, Froome and Co (not to mention Sky's deep pockets) have had on raising the profile of cycling within the UK.
Safely onto the ferry, with the crew liberally dispensing corrugated cardboard and bubble wrap, but never quite sure whether its to protect the bikes or the ship! A quick meal, then settling down for as good a night's sleep as possible on a reclining seat - the downside of booking so late.
First Day, Stage 10
First thing Tuesday, and I realise my first mistake. The heat we'd been enjoying in the UK was gone, replaced by grey cloud, and....cold! Unfortunately given my extremely limited storage, my only concession to cold was a pair of arm warmers. Still, on they went. Next thing, I'm in Saint-Malo at eight o'clock in the morning, and the Tour finish would not be until around five o'clock - I had time to kill. First things first - some petit dejourner.
Set for the morning, I decided to explore Saint-Malo, and get my first glimpses of the monolith that is the Tour de France. The countless lorries containing pre-fabricated.....well.....everything. The barriers, the seating, even the podium, packed up every evening, driven to the next location, and set up once again the next morning. Complete chaos!
Having mooched around, watching the small army of workers set everything up (including stalls selling all kinds of merchandise, from yellow jerseys to team jerseys, much of which can be bought from the Tour's web site), it was time for action. It was never my plan to stay at the Finish line - excited though I was by the prospect of a stage set perfectly for everyone's favourite sprinter (provided you're British!), Mark Cavendish, I was too put off by the prospect of thousands of other people  with the same idea, and also by the steadily growing number of VIP areas being set up (in all the best places), to which mere plebs had no access. No, my plan was to see the race in a much more egalitarian location, outside of Saint-Malo, along the coast road, hopefully with a good backdrop for some photos.
A short 15km ride, and I am in the seaside resort of Cancale, the clouds have dispersed and the day is warming nicely. The race will pass through here later, and the town is decked out. Alongside more cordoned-off VIP areas, some display events have been laid on with local kids, and the place is filling up nicely. A lovely place to chill for a few hours, culminating in lunch and even a catnap on the grass outside the town hall.
Time to move on again, this time to my intended vantage point of the race. Out of Cancale, the race heads north along the coast to the Pointe du Grouin, where it then heads west into Saint-Malo. The Pointe du Grouin, that was the plan. Beautiful scenery, hopefully fewer people than in the towns, and quite a straight road so should have a good view of the riders who, this close to the finish, will be going at full speed. A short hop, just a 5km ride, and I'm at my destination and looking for a decent viewing spot.
So, not quite as quiet as I'd have liked (to put it mildly), furthermore it looked like a lot of these guys had been there overnight. Still, I'd made my decision, for better or for worse. Time to settle in and wait for the Caravane. (It was quite hot by now and the only headwear I had was my lid, so "settling in" involved crouching under a bush for a long while!)
Now, the Caravane really is the spectacle in the Tour de France. As far as I am aware it is unique, doesn't happen in either the Giro or the Vuelta, although I could be wrong. An array of floats representing various tour sponsors, and a superb opportunity to grab  freebies as they are thrown from the floats. Great for little kids. Great for not so little kids!! And the freebies? Well, it must be said they are mostly crap: caps, keyrings, wristbands, candy, fabric conditioner(?), plus those enormous green hands that you see at the finish lines on TV. But they do represent real souvenirs that simply cannot be bought (well, except a few days later on eBay!). And positioning here is key, every bit as much as the race. That eight-year-old kid standing next to you is your rival - when the time comes, it's him or you!
Well, that's the theory in any case. In practise, they basically end up throwing everything to the guy next to you, the guy who'd rocked up just 5 minutes ago while you've been waiting over an hour, the guy whose physique clearly demonstrates that its been several decades since he was anywhere near a bicycle (even picking his goodies off the floor looked like an effort for him).....  But let's not be bitter. Sure, it was hot and a cap would have been great to counter the heat (I still had my lid on and had visions of my head being striped pink-and-white by the day's end!). Also, this would have kept me in my wife's good books - this was the one souvenir she'd specifically asked for). But I kept telling myself, the really memorable part is the glitz of the parade itself.
There are more photo's of this on my Flickr Photostream - just click on any of the photos to get there
So the caravane is out of the way, next up is the race itself. And the funny thing is, you're never quite sure when its coming. There is of course race radio - in the towns there are PA systems which will relay this, and on the road there are truck-based sound systems, but these trucks are few and far between so you're not in constant contact.  Besides, this information is relayed exclusively in French, so you're immediately limited by your vocabulary. And as with most live sport, you're there for the atmosphere and never get the full picture that we've become used to seeing on TV. No, out in the countryside, the first inkling that the Tour is coming soon is the buzzing of the helicopters - when they start appearing, the riders are coming.
And then, WHAM, the vehicles and riders come into sight. You cheer, you snap. In our case, there was a breakaway of four riders but they were only seconds ahead of the peloton and about to be reeled in. (I reckon I'd ridden another 1km beyond the 20km marker from Cancale, so that would put me at 19km out.) In realtime, its almost a blur - they're doing more than 50km/h at this point.
 Again, there are some more photos on my Flickr Photostream. Just click on a photo above to get there
And then, no more than fifteen seconds later, its over. After almost three hours wait!
Back to the Hotel, and a bonus
For many Brits, that was their Tour. The ferry company had laid on a special overnight crossing back to the UK, and these guys would be back at work tomorrow, albeit a little worse for wear. I was lucky, however, I'd booked an hotel for a couple of nights so I could see the next stage too. So I was headed back to Saint-Malo as well, but for a different reason. A beautiful ride back, and along the very road that the race had just been along. And of course, here the bike came into its own, zooming past the instant traffic jam that had just formed.
A pleasant, cooling ride into Saint-Malo, where I found my hotel on the sea front. I checked in, then walked my bike around the back, to their garage. And a wonderful sight met my eyes:
Yes, I was staying in the same hotel as Team Belkin. Now, I've never really followed one team over another, or even been into hero-worshipping the riders (sad to say I couldn't put names to faces even when I met them), but just to see that kit was amazing.... (And in fact there may have been an element of "karma" going on - my "best" bike at home is a Giant TCR Advanced, a lovely fast bike and a direct ancestor of those bikes I was looking at now.) Great to have a quick chat to the mechanics and just to admire these beautiful pieces of kit...
Second Day, Stage 11
The next stage was a time trial, finishing at the Mont-Saint-Michel, around 50km from the hotel. Furthermore, because of my truly pathetic haul of goodies from the previous day's caravane, I wanted a second bite at the cherry. That would mean covering those 50km and arriving by around 9:30am, so I had an early start. A beautiful ride, for a large part along the edge of the bay, and I arrived nicely in time to park up and await the caravane among the growing crowds.
But if I was hoping for better luck today, I was to be disappointed. True, I got a couple of things, but mostly candy that I gave away to the family standing beside me. But still no cap, it looked my wife was going to be disappointed.
Very shortly afterwards the first rider came through, so soon that nobody was really expecting him. But it highlighted the chalk-and-cheese difference between a time trial and a normal stage. The normal stage builds up the excitement, then....bang, its over in an instant. The time trial however is more of a controlled affair, so much so that there is time to go get a drink or a snack, or look at some of the stalls selling Tour merchandise, or head down the road to see if the view is better there, or have a lie down, or experiment by taking a movie rather than stills..... And if you happen to miss a rider? Well, so what? There'll be another one along in a couple of minutes!
The way the Time Trial is structured means that the riders set off in reverse order, so if you want to see the GC contenders you're in for a long wait. But there are still plenty of big names, sprinters mainly, who ride early in the day. For example I saw Cavendish go past (no photo unfortunately), but also his former team-mate and current rival Matty Goss:
and particularly loud cheers went up for any French riders, including William Bonnet, who'd come close to that elusive French Stage Win the previous day:
There was time to wander up and down the road and to enjoy the scenery:
but, certainly in terms of the photographs that I took, the highlight for me was a (pure fluke) shot of World Champion, and eventual winner of the stage, Tony Martin, in all his glory. I didn't even realise I had this shot until I got home.
By this time I had long since bitten the bullet and bought myself a cap to ward off sunstroke - at €20 each for two caps (I couldn't let my wife down!) and another €30 for a t-shirt, these were quite hefty treats. The Tour de France promotes itself quite heavily as a "free" event, and strictly speaking it is, but the range and prices of the peripheral merchandise do give some idea of at least one source of income.
By 3 o'clock the heat was such that I'd had enough. Deciding to watch Froome, Contador and Co another day, it was time for me to head back. In theory, I'd given myself enough time to get back to the hotel and see the last few riders on TV, but it was a far more pleasant alternative to meander back through the countryside, via the lovely town of Dol-de-Bretagne, taking time out to refuel with some ice-cold Orangina along the way.
Back to the hotel, where Team Belkin were still present. This surprised me because the next day's start was in Fougeres, 100km from Saint-Malo. I'd have thought they'd keep their morning travel times to a minimum, but I suppose a with the amount of shuttling from one place to another, the opportunity to stay in one place for a few nights must seem like a bonus.
Even time for a quick chat the next morning with a couple of the team, as I was leaving for the ferry and they were boarding their bus. But try as I might, I couldn't convince them to swap bikes with me! Must've been a language thing...