UPDATE: This review is a couple years out of date! For frequently updated bike light recommendations and reviews, visit The Bike Light Database.
Whether you bike to work every day regardless of how dark it is outside, or only let dusk catch you on the occasional evening ride, every cyclist should have lights. They're required after dark by law in almost all regions, and are a crucial piece of safety equipment even where they're optional.
Remember that although spending $30-50 on good lights may seem like a lot of money, the medical costs from a single accident would far surpass that initial investment. If you bike at night (or even bike on busy roads during the day - several of these lights are daytime visible), a bright light is a must-have!
Choosing a light can be a difficult task though - there are countless options to choose from ranging from cheap $3 flashers to blindingly bright $200 powerhouses. The internet already has some good comparisons of bike headlights, but there's a surprising lack of comprehensive taillight comparisons, so I decided to make one. For science.
In total, I reviewed 16 different taillights from 8 of the top light manufacturers. I chose which lights to review based on a survey I conducted on the parent site for this blog - Bicycles Stack Exchange, a Q&A site for everything about bicycles, and also asked on Reddit's /r/bicycling. The incumbent in this race is the Planet Bike Blinky Superflash. Everyone has this light (myself included). Not only is it the light most people own, it's also the most-loved - 20% of respondents said it was their favorite. In terms of what people wish they had or are considering buying, the Planet Bike Superflash Turbo, Portland Design Works' Radbot 1000 and Danger Zone, and the Niterider Cherrybomb were all high on the list. Many people expressed an interest in DiNotte's lights, but unfortunately we were unable to acquire one for this review and the company declined to loan a light for the review.
I'm sure you're all dying to know which light is the best, but first, let's take a look at the contenders.
Table of Contents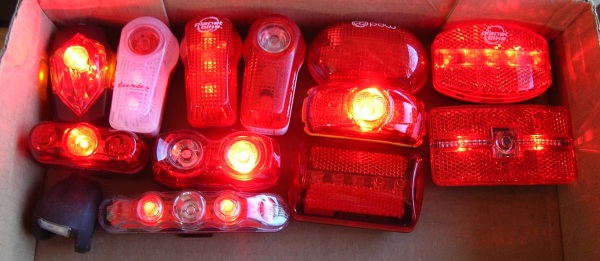 Top row (from left): Mars 4.0, Planet Bike Superflash Turbo, PB Blinky 7, PB Blinky Super Flash, Portland Design Works Red Planet, PB Blinky 5
Middle row (from right): Cateye Reflex, NiteRider Cherry Bomb, PDW Danger Zone, Cateye Rapid 3
Bottom row (from left): Knog Frog Strobe, Cateye Rapid 5, SE 6-way flasher
Not pictured: Cygolite Hotshot, PDW Radbot 1000
What I measured
The following statistics were recorded for each light. I will be writing a separate post with more details about the testing process.
Cost (MSRP and online price)
Brightness at 0, 45, and 90 degrees from the front of the light source

A note on brightness: this value was measured at a distance away from the light, using a mechanism to help capture some of the diffused light due to different lens and LED setups. The values are useful for comparing the brightness of the lights to each other, but should not be used as a comparison against any external sources, because measurement techniques and setup will be different.

Flash patterns
Battery life
Mounting mechanisms (default included & available separately)
Ease of installation
Ease of battery replacement
Special features
Data Overview
1: Cost on Amazon.com as of 02/03/2012, without shipping costs included. Prices subject to change. 2: Maximum brightness measured from ~20cm in lux. Value is relative to experimental setup and should not be used to compare with other reviews. 3: Battery life measured in hours, with lights on standard flashing mode. Most lights were tested with identical fresh AAA batteries from the same package. A few lights used different battery types, in which case fresh batteries were still used. For the lights added in 2013, battery life was measured in steady burn mode. 4: Weight in grams, measured with standard batteries installed.
Reviews
Cateye
For this review I compared four different Cateye lights, two of which were generously donated by Cateye. The mounting mechanisms are compatible between all of these lights, and they share a similar design. One nice feature on all of the Cateye lights which is not seen as commonly elsewhere is the switch mechanism: To turn the light on/off you push and hold the button for about 1 second; to switch modes, you press it briefly. This helps prevent the lights from turning on by accident when being carried in a pocket or backpack, and also ensures that the light returns to the same mode you left it in when you turned it off.
Cateye Rapid 3
Price
Brightness
Included mounting
Optional mounting
Battery Life
Weight
MSRP
$25
0°
45°
90°
Max
20 hrs
43 g
Online
$22
12300
480
40
12300
View mfc website     Buy on Amazon
The light is compatible with all of Cateye's assorted mounting options, but only comes with the flex-lock mount, which is a narrow band of plastic which can be wrapped around a seatpost and then tightened with a plastic nut. The mount seemed reasonably sturdy, although I would have preferred a more traditional seatpost mount. The Rapid 3 is powered by a single easy-access AA battery, which is probably why it had such poor battery performance. The light only lasted about 20 hours on rapid mode before becoming too dim to be useful.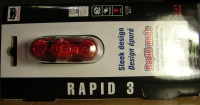 At $22 (via Amazon), it isn't the best performance for your money, but is a bright and easy to use light. The low-power option is a nice perk for people who often ride in groups and want to be seen without blinding their followers. The Rapid 3 is one of Cateye's newer lights. It has a center high-power LED (probably 1 watt, but unspecified), and one low-power 5mm LED on each side. This was one of the brightest lights tested. It includes a solid mode which only turns on the center LED, a "rapid" mode which flashes all three, and a low-power mode which only flashes the 5mm LEDs. This mode is not as bright, but saves power and is good when biking with a group or on a multi-use trail where you would want to avoid blinding fellow cyclists.
Cateye Rapid 5
Price
Brightness
Included mounting
Optional mounting
Battery Life
Weight
MSRP
$30
0°
45°
90°
Max
74 hrs
50 g
Online
$30
8150
600
60
8150
View mfc website     Buy on Amazon
The Rapid 5 is also a new product, and is very similar to the Rapid 3 (above). Cateye claims that it uses the same lights as the Rapid 3, but adds an extra 2 chip LEDs, one on either side of the light. From my testing, it appears that the central high-power LED on this light actually puts out less light than the Rapid 3 does. The overall measured light output from the Rapid 5 was about 2/3 of the Rapid 3. This measurement is partially due to the light from the Rapid 5 being more diffuse, due to its wider design - the light meter does not measure wide angles quite as well. Overall though, even just from looking with the bare eye, this light is less bright than its smaller brother.
Despite being dimmer than the Rapid 3, this was still one of the brighter lights, clocking in at 8150 lux from the front, and an impressive 600 lux from 45 degrees. Battery life was also much better in the Rapid 5, which started to dim after about 74 hours on rapid mode, and didn't die completely for another 30 hours after that. Batteries are also very easy to replace in this light: a small cover can be pulled off by hand, and the batteries slide in horizontally. The Rapid 5 had more flashing options as well: solid mode (which only uses 3 of the 5 LEDs), a steady pulsing mode which alternates between partial and full brightness, rapid mode which quickly alternates all 5 LEDs, and a flashing mode which blinks all 5 LEDs at once.
This light only comes with the flex mount (same as the Rapid 3), which is a shame since the light is shaped perfectly to mount under a seat or on a rear rack. I placed it on my cargo rack using the rack mount that comes with the Cateye Reflex Auto and it fit perfectly. Fortunately, you can order almost any kind of mounting bracket you might want from their small parts store, and for reasonable prices, but for this light in particular they should have included more mounting choices by default.
Update: after using it regularly for about a month, this light seems to have succumbed to the weather, and no longer works properly. Only two of the modes can be selected, and it randomly turns itself off during rides. I am going to attempt to revive it, but it seems this particular light is not very weather-resistant. Be warned!
Second update: after drying the light out and putting in some new batteries, it seems to work fine again.
Cateye Reflex and Reflex Auto
Price
Brightness
Included mounting
Optional mounting
Battery Life
Weight
MSRP
$25
0°
45°
90°
Max
74 hrs
62 g
Online
$27
930
80
40
1060
View mfc website     Buy on Amazon
There are two versions of the Cateye Reflex. The normal version is like any other light, and the Auto version has a built-in darkness and motion sensor which will trigger it to turn on automatically. Aside from this, they are identical. The Reflex series is essentially a giant reflector with some LEDs inside. The intensity of the LEDs was rather disappointing - unlike the other Cateye products I tested, these did not have a high-power LED, and only put out 930 lux straight-on. The battery life is decent though, lasting 74 hours like the Rapid 5.

Although this light isn't the brightest, and I wouldn't recommend it as the sole light on a bike, it does come with a nice variety of mounting options, including a rear rack mount, a seat post mount, and a stay mount. The rack mount has holes for almost any setup, and has a nifty lock feature which lets you insert an extra screw to prevent the light from being easily removed by thieves. The auto feature worked surprisingly well on the version which includes it: Even when it was only slightly dark, such as around dusk or during a rainy day, it would always turn on when needed. Now, for somebody who already has several other lights which are not automatic, there is not much benefit - I actually found it rather annoying, because I like to turn on my light even during the day sometimes, and there is no way to force the light on (although you can turn it all the way off so it doesn't come on in your pack while walking around).
There is definitely a market for the auto feature though - if somebody rarely bikes at night, or maybe is apt to forget to turn their lights on, this may be a good choice, because it's easy to "set and forget," especially with the anti-theft rack mount. The Cateye representative I spoke to said they particularly recommend it for children who might not remember to turn on their light. I agree that it would be a good setup for younger riders who are not frequently out at night, but who need a light just in case. This light might not be the best choice for commuters in busy traffic or people who bike at night frequently though - Cateye's other lights are much brighter at a lower cost.
Planet Bike
I've owned Planet Bike lights for years, and can say with certainty that they're high-quality products. Planet Bike is also neat because they donate 25% of their proceeds to bike advocacy. The friendly folks at PB donated a Superflash Turbo and a Blinky 7 for this review, and I already owned the other PB lights reviewed here. All of Planet Bike's rear taillights use the same mounting hardware, which also happens to be interchangeable with (and visually identical to) Portland Design Works' mounts. The mounting hardware is fairly sturdy, and I've never had one of these lights fall off while riding. All of the lights also come with a built-in clip to attach to a backpack or bag. The mounting options include a standard seatpost mount, a rack stay mount, and a less-common rear rack mount.
All of the PB lights reviewed here except the Blinky 5 have the same form factor. They all share the same switch mechanism, one I actually find slightly annoying. Although it rarely gets triggered by accident in one's pack, there is no tactile feedback from the buttons, and they're hard to turn on/off with gloves on. The switches seem kind of sticky, and sometimes won't register a click. I would like to see Planet Bike implement a better switch someday, and this is a common complaint in other reviews of these lights.
Planet Bike Blinky Super Flash
Price
Brightness
Included mounting
Optional mounting
Battery Life
Weight
MSRP
$30
0°
45°
90°
Max
52 hrs
52 g
Online
$24
2380
400
110
2380
View mfc website     Buy on Amazon
This light is by all accounts the most popular one out there. It was one of the first super-bright LED lights to hit the market, and continues to be very popular. So how does it stack up against the modern competition? (Disclaimer - mine's several years old, so although I did give the outside a good wiping down, and LEDs shouldn't degrade over time, a brand-new one might perform better).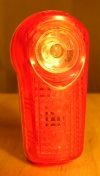 As it turns out, the Super Flash isn't the brightest light out there - it has reasonable visibility from the side, but is only about average in terms of brightness. What makes this light stand out isn't the amount of light it puts out, but rather how it does it: the Super Flash was one of the first bike lights to implement a rapid strobing pattering to grab drivers' eyes. Despite being dimmer than other lights, it caught my eye better than brighter but more mild-mannered blinky lights. With a 1/2 watt LED, it also runs longer on a charge than some newer, brighter lights do: In my testing, it remained very bright for 52 hours, remained visible for another 22, and was still flashing feebly after an entire week of runtime. Overall, the Super Flash is still a good choice, but at $24 you can certainly get something brighter. It may seem that the Super Flash's reign is over, but Planet Bike is determined to hold their top spot, and the next light may do just that:
Planet Bike Super Flash Turbo
Price
Brightness
Included mounting
Optional mounting
Battery Life
Weight
MSRP
$35
0°
45°
90°
Max
24 hrs
54 g
Online
$30
6200
950
260
12000
View mfc website     Buy on Amazon
While the original Super Flash is starting to show its age, the newer Super Flash Turbo is an impressive adaptation of its older sibling. Although it looks almost identical at first sight, it doubles the power with a 1-watt primary LED, and is blindingly bright. The first time I rode with the Super Flash Turbo on my bike, I was surprised to see it lighting up stop signs 4 blocks behind me. For all of the brightness measurements, I set the lights to solid (non-flashing) mode, because the light meter is not precise enough to capture brightness over the short period of time of a single flash. For each of the lights I attempted to get some data in flashing mode, and was surprised to see that for the Turbo, it shined brighter when flashing than when solid. In flashing mode I measured a max of 12,000 lux, making this one of the brightest lights available. The light also had very good side visibility. This added brightness comes at the price of battery life though - the light only lasted 24 hours before dimming, although it kept flashing weakly for nearly a week after it lost its initial luster.

It was always very easy to replace the batteries in my trusty ol' Super Flash, and I expected the same of this light. As it turns out, the casing on the Turbo is much more rigid, and cannot be opened by hand - it requires a coin to twist in the opening slot to leverage the case open. This may be in response to customers' complaints of the casing coming apart too easily, causing people to lose their lights. The downside is that makes it hard to replace the batteries quickly if you don't have a coin handy. Not a huge issue, and arguably an improvement, but definitely a difference between this and other PB lights. Overall the Planet Bike Superflash Turbo is a very strong light. Its flash pattern is random and attention-grabbing, even more so than its predecessor's, and it's a drop-in replacement (or good accompaniment) to an existing Superflash.
Planet Bike Blinky 7
Price
Brightness
Included mounting
Optional mounting
Battery Life
Weight
MSRP
$20
0°
45°
90°
Max
43 hrs
53 g
Online
$12
1450
330
230
1450
View mfc website     Buy on Amazon
The Blinky 7 comes in the same shape as the Super Flash and Turbo, but instead of a large high-power LED, it has 7 lower power (but still bright) LEDs arranged in a circular array. Three face directly to the back, and two on each side faces out at 45 and 90 degrees. This gives the light a claimed 220 degrees of visibility. The light is not particularly bright in any one direction, but does have better side visibility than some lights. Although I wouldn't recommend it as a primary light, it makes for a decent secondary light if you use two lights at once, as recommended.
Planet Bike Rack Blinky 5
Price
Brightness
Included mounting
Optional mounting
Battery Life
Weight
MSRP
$20
0°
45°
90°
Max
43 hrs
59 g
Online
$18
2120
350
50
2120
View mfc website     Buy on Amazon
The Rack Blinky 5 uses the same low-power 5mm LEDs as the Blinky 7, but all in a straight array facing directly back. This kit comes with a rack mount included, making it easy to attach to the back of your bike. It uses the same mounting clip as other PB lights, but has a slightly wider, shorter profile. This light was surprisingly bright for a blinky, although it's still dim next to either of the Super Flashers. One aspect of the Blinky 5 I am impressed with is the wide spread of light. Even from off-angles, it's easy to see.

The biggest downside to this light is its on/off button. Whereas most PB lights are too difficult to turn on, this one is far too easy. It is controlled by a large soft push button on the back, which is way too easy to bump in your pack. I always take my lights off to prevent them from being stolen, and several times went to look for something in my pack, and found this light flashing away. A simple time-delay like many other manufacturers' lights would help this problem.
Portland Design Works
PDW is a newer player in the field, and has some high-quality lights with nice designs. They all use the same mounts as Planet Bike's tail lights, which makes them easy to switch between bikes if you already own one of PB's popular lights.
PDW Radbot 1000
Price
Brightness
Included mounting
Optional mounting
Battery Life
Weight
MSRP
$32
0°
45°
90°
Max
27 hrs
61 g
Online
$23
7600
1000
130
10000
View mfc website     Buy on Amazon
The Radbot 1000 holds a blindingly bright 1W LED, and puts a large reflector on the bottom half of the light to provide passive visibility even when the light is off. This light is painfully bright - I know because I put it on a friend's bike during the review, and following her with the light on was a dizzying experience.
The Radbot has a solid-on mode, and two different flash patterns - a rapidly flashing mode, and a mode that alternates between a bright pulse and several rapid flashes. These are some of the most attention-grabbing flash patterns I've seen.

The Radbot was the only light I reviewed which requires a screw driver to open the battery casing. Personally, I think this is a good feature - it helps prevent the case from opening if the light is dropped, and may help keep water out when riding in the rain. If you frequently need to change batteries on the road though, you may want to take this into consideration.
The switching mechanism on the Radbot is also a pleasure to use. It remembers which flashing mode you last used, and is turned on/off by pressing and holding the button for a few seconds. This helps prevent accidentally turning the light on. The Radbot also comes with an included cargo rack mount, which most lights don't include.
Although a bit overpriced at an MSRP of $32, with a maximum brightness of 10,000 lux, and an online price tag of $23, this light is definitely a high-quality option. It's simple to use, comes with lots of mounting options, and has bright and eye-grabbing flash patterns, making it one of my personal favorites.
PDW Danger Zone
Price
Brightness
Included mounting
Optional mounting
Battery Life
Weight
MSRP
$37
0°
45°
90°
Max
24 hrs
56 g
Online
$31
3200
690
140
6500
View mfc website     Buy on Amazon
I distinctly remember the first time I saw a Danger Zone in the wild: its wild blitzing flash pattern caught my eye from several blocks away, promoting me to bike like mad to catch its owner and ask them what light it was. This light implements two 0.5 watt LEDs next to each other, giving it a unique design.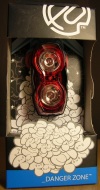 The DZ has two flashing modes: a slow, steady pulse which alternates between the left, right, and both LEDs; and a rapid blitz which quickly alternates between the two lights for a few moments, then pulses each LED once. The first mode is much easier on the eyes if biking with other people, but when in crazy traffic or on a road without bike lanes, the blitz mode is wonderfully attention-grabbing.
The individual half-watt LEDs on the DZ aren't quite as bright as the Radbot's 1W and some other 1W lights such as the Mars 4.0 and the Planet Bike Super Flash Turbo, but the effect of having two lights helps make up for it. The individual LEDs also seem to be brighter than the 1W LED in the older PB Blinky Super Flash, which may simply be a result of LED technology improving over the years. Either way, this light is plenty bright, and likely to get you seen. What I would like to see is a dual-1W version of the Danger Zone, and a flash option to fire both LEDs at once. Despite some of the shortfalls of the DZ's design (explained below), I would buy one of those in an instant for the sheer epic brightness.
Despite its greater price tag ($37 MSRP, although my LBS was selling it for $30), the Danger Zone lacks some of the nice features of the Radbot. It doesn't come with a rack mount (although it is compatible with the Radbot and Planet Bike's mounts, both of which can be purchased separately). I also don't prefer its button, and wish PDW would implement the Radbot's switch style here - the DZ doesn't remember its mode, and must be cycled through each time you turn it on. There's also no time-delay, which makes it slightly more prone to accidentally activating in your pack, although the switch is large and clicky enough that it's still easy to use with gloves, and doesn't activate easily like the PB Blinky 5.
Perhaps the biggest downside of the Danger Zone is replacing the batteries. The first time I did it, I was afraid I was going to break the darned thing. On the upside, there's a pretty good seal for the battery chamber, but prying the light apart is difficult, and putting it back together is even worse. You can't quite pop the cover right back on - you sort of have to slide it in, then press down hard and hope you don't break any plastic. If PDW ever makes a Danger Zone 2.0, they should make replacing the battery much easier. I would vastly prefer using a screwdriver to fearing that I'll break the light every time it runs low on batteries.
Overall, I really like the Danger Zone, and will keep using it. It's bright, attention-grabbing, and I really like its form factor. However, given its rather steep price and the sketchy battery replacement procedure, it's not the best deal. The Radbot gives you a brighter light in an easier to use package, with more attachments and a lower price tag.
PDW Red Planet
Price
Brightness
Included mounting
Optional mounting
Battery Life
Weight
MSRP
$15
0°
45°
90°
Max
66 hrs
53 g
Online
$14
2120
290
1000
2120
View mfc website     Buy on Amazon
The Red Planet is PDW's cheapest light, at $15. It has five 5mm LEDs, much like the PB Blinky 5, but has only 3 facing directly back, with the other two at exactly right angles. Its brightness readings matched up pretty closely with the Blinky 5 as well, placing it squarely in the "not super bright but works" category. It has two flashing modes - a standard blink, and an alternating side-to-side which only flashes one LED at once. The latter is a bit of a gimmick - having only a single LED on at once severely diminishes the brightness, and leaves you without any rear-facing LEDs illuminated when either of the side-LEDs are going. A seat post and stay mount are both included mounting options.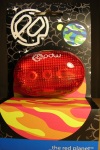 With the side-mounted LEDs, this light does give off a very bright side profile, emitting 1000 lux at a 90 degree angle. The light has pretty poor visibility from anywhere between straight-on and the right angle though. Getting the batteries out was also a pain - the contacts seem to be very tight, and it's hard to get a grasp on the batteries.
Although it's bright for such a cheap light, if you're looking at a light in this price range, I frankly think you'd be better off with Planet Bike's Blinky 5. It's about as bright from the front, and slightly dimmer from the side, but also includes a built-in reflector and a rack mount. The Red Planet does however do a better job with the on/off switch, which is much firmer than the Blinky 5's, keeping it from turning on by accident in your pack.
Other Brands
Lights which I didn't test more than one of from the same brand follow.
Blackburn Mars 4.0
Price
Brightness
Included mounting
Optional mounting
Battery Life
Weight
MSRP
$25
0°
45°
90°
Max
24 hrs
54 g
Online
$20
13700
800
120
13700
View mfc website     Buy on Amazon
I've rarely seen Blackburn lights in the wild, but according to my poll, they're fairly popular, so I thought I'd give one a try. The Mars 4.0 is Blackburn's latest taillight offering, powered by a central 1W LED, and an amber mini-LED on each side.

The Mars 4.0 has only two modes: solid, and blinking. The blink mode isn't particularly exciting - just a slow on/off, but what it lacks in flashiness, it makes up for in brightness: the Mars was the 2nd brightest light (from the front position) tested. Despite having additional side-LEDs, the side visibility was not any better than similar lights - the miniature amber lights were dim and hardly visible from a distance.
The mounting mechanism for this light is versatile, if a bit overcomplicated. It requires no tools to attach, although you'll need a screw driver if you plan to rotate the the light clip to keep it oriented vertically. Why it doesn't come in that orientation by default beats me. The mount uses a flexible plastic strap, which can be adjusted to almost any seat post width, and is kept tight by a large tool-free plastic screw. The kit also includes a rack mount, which I did not test specifically.
I wasn't a huge fan of the Mars 4.0, mostly because it lacks an attention-grabbing strobe mode and has a slightly fidgety mount, but it's definitely one of the brightest lights you can get for $20. If you're looking for a very bright light for cheap, this may be a good option for you.
Cygolite Hotshot
Price
Brightness
Included mounting
Optional mounting
Battery Life
Weight
MSRP
$40
0°
45°
90°
Max
120 hrs
43 g
Online
$27
23000
600
60
23000
View mfc website     Buy on Amazon
This is the only light I could find with a 2W LED, and this thing is bright. Or not - you can actually adjust the brightness and flash frequency on the go, which is one of its many compelling features. The Hotshot is powered by an internal rechargeable lithium-ion battery, which gives it an impressive runtime between charges, and has 4 different flash modes: single-flash, triple-flash, single-pulse, and an alternating bright/dim pulse. The flash frequency can be adjusted for each mode, and in solid mode the adjustment increases/decreases the brightness of the beam. The package is offered with two versions: one comes with a USB charging cable (compatible with any computer or standard USB power adapter), and the other comes with the cable and a wall charger adapter. Almost everyone has a computer with USB ports or an existing cell phone or light charger with a USB adapter though, so I recommend saving $6 and getting the version with just the cable.

Riding around with this light, I notice a drastic difference compared to the others I tested: I can see it reflecting off of signs from as far back as the contours of the land allow. Sometimes I can see a reflection even in daylight. This light is the brightest you can find for under $50 (or under $150, for that matter). The battery also lasts a ridiculously long time - on the triple-flash setting with the default frequency, it lasted for 120 hours before dimming. If you recharge it even once a week, you'll almost certainly be fine. Because the battery is not user-replaceable though (and thus can't be swapped out on the road), make sure to charge it before long rides, or have a backup light, because you'll be out of luck if it dies on the road. You can also find portable USB rechargers which could provide backup power if necessary.
This is a great light, but there are a few downsides. First of all, the mounting mechanism sucks. It's the worst of all the lights I tested. The screw is small, making it hard to install. The notches in the clip are small and weak, meaning that it doesn't take a big bump to push the light out of position, and every time this happens, the grip loosens until you have to pull out your screwdriver again. Some other online reviews have mentioned people dropping the nut for the mount or having the light fall off completely. It's disappointing that such a great light could be diminished by such a terribly weak mounting system.
The control buttons are also a pain to use. Because the speed adjust button is right next to the power/mode button, it's hard to operate properly with gloves on. Turning the light on only takes a single press (not a hold-and-press like some lights), but the button is hard enough to press that you won't be turning it on by accident. Unfortunately, turning it off is not easy - you have to hold down for more than 2 seconds until you see a brief final flash. If you release before then, it just changes modes. This type of system is common and useful, but the timing of the Hotshot is frustrating compared to others. The mode adjust button is also annoying - for some reason, there's only one button to adjust both up and down. I still haven't quite gotten the hang of it, but it seems that pressing and holding will lower the rate/brightness, and letting go and pressing and holding again will raise it. It's kind of hard to tell though. When doing the brightness tests, I was initially disappointed to see a very low value for this light. Turns out, I just hadn't cranked it up to full power, because the programming button is so finicky. This light would be much better with a separate up button and a down button for adjustment, or a rocker switch with an obvious up and down position.
Despite the issues with the mount and buttons, this light is without a doubt the best bang for your buck. At $40 MSRP, it's more expensive than most, but I was able to find it for as low as $25 online, a very good price for so much light. The ability to reprogram the frequency and brightness is particularly appealing for those of us who ride in varied environments. When you're on a group ride, you can set it to solid mode and turn the brightness down low to avoid blinding other riders; when you're biking in traffic, you can crank up the frequency on a bright flash setting. In using this light, I've come to really enjoy this flexibility, and so have the people I ride with! I would highly recommend this light for just about anyone.
Update, November 2013: Cygolite has released an updated version of the Hotshot with redesigned buttons, a low battery indicator, and sturdier mounts. I haven't tried the new light in person yet, but I did get the new mount from their small parts store, and it works with the old hotshot as well. The redesigned mount uses larger screws, and has separate screws for adjusting the tightness on the post and the level of the light. I'll add an updated review once I try the new light in person.
Knog Frog Strobe
Price
Brightness
Included mounting
Optional mounting
Battery Life
Weight
MSRP
$15
0°
45°
90°
Max
34 hrs
18 g
Online
$10
550
350
150
550
View mfc website     Buy on Amazon
The Knog Frog is a bit of an outlier - it's small, attaches to almost anything by wrapping its little rubber strap around and hooking onto itself, and it's powered by two little CR2032 batteries, instead of normal AA or AAAs. It's tiny, cheap, and brighter than I expected - but still puts out the least light of any of lights I tested. At $10 for the light and about $3 for a CR2032, it's almost cheaper to buy a new one each time (batteries included) instead of replacing them. This light was dimmer than even the very cheapest flasher I could find on Amazon (reviewed below), and given its expensive non-standard batteries and low output, I don't particularly recommend it. Unless you really need to wrap it on something which you just can't fit a normal light on, the Frog is not the best deal, and its popularity perplexes me.
Nite Rider Cherry Bomb
Price
Brightness
Included mounting
Optional mounting
Battery Life
Weight
MSRP
$32
0°
45°
90°
Max
66 hrs
59 g
Online
$20
1640
600
80
1640
View mfc website     Buy on Amazon
This light has a 1/2W main LED, with two 5mm secondary LEDs. It has a solid mode which only activates the center LED, and a flashing mode which rapidly alternates between the secondary LEDs and a double-pulse of the center LED. This light was also very popular in the poll, and I see it around a lot.
This light gets a lot of things right. The flash pattern is attention-grabbing without being painful. The button is nice and clicky, and easy to use with gloves on. The batteries are fairly simple to remove, and last a reasonably long time - although the light dimmed after about 72 hours, it held on for 130 hours before becoming too feeble to see.
One disappointment is that there are only two ways to mount the light: using the built-in pack/belt clip, or using the included seat post mount. I was unable to find any seat stay, rack, or other mounting options for this light anywhere. The design of this light makes me want to mount it horizontally, but as it turns out, the lens focuses the light into a very wide but horizontally short beam when the light is mounted vertically. This gives it good side-viewing angles if mounted vertically, but wastes a lot of the light if mounted horizontally.
The Cherry Bomb isn't the brightest light based on my measurements, but given the dispersed beam pattern, the light is less focused, making the light more visible at off-angles than some other choices which have higher intensities from straight-on. There is apparently also a 1W version, cleverly named the "Cherry Bomb 1W." I was unaware of its existence until after I had already ordered all of the lights for this review though, so I was unable to include it.
SE 6-way Flasher
Price
Brightness
Included mounting
Optional mounting
Battery Life
Weight
MSRP
$9
0°
45°
90°
Max
81 hrs
83 g
Online
$3
800
70
15
800
     Buy on Amazon
This light is literally the cheapest light I could find. I went on Amazon, found the bike lights store, sorted by "lowest price," and this is what came up. Unsurprisingly, this $3 light was not particularly bright, but it was better than I expected. It put out 800 lux, placing it ahead of the more expensive Knog Frog, and almost on par with the Cateye Reflex.
The light comes with a simple seat post mount. It's powered by AA batteries, which are a bit of a rarity in the tail light arena. The upside of its low brightness and larger batteries is that it lasts a long time. It held on for 81 hours before starting to lose its luster, and kept going for another 40 hours after that.
The 6 in the name refers to flash modes, not LEDs as I had originally expected. The LEDs are obviously not of the highest quality - other 5-LED flashers such as the PB Blinky 5 and PDW Red Planet far outperformed this light. The flashing modes consist of a fast mode and a slow mode with all 5 LEDs, and a variety of modes which alternate the LEDs. The alternating modes seem rather useless, as having fewer than all of the LEDs turned on makes the output even dimmer than it was to begin with, but the first two modes work well enough.
For $3, this light isn't bad, but it's certainly not going to give you great visibility. If you're strapped for cash and are in the position of "something's better than nothing," then buying three of these for the cost of a single brighter light might not be a bad idea though - it's generally recommended to have at least two lights, each mounted at a different level, to improve visibility. I would generally advocate for buying brighter lights, because the costs of medical treatment if you ever get hit will far exceed the cost of a $20 light, but there is definitely a place for cheap lights like this one, and this performs well for such a ridiculously low price.
Comparisons
Each of these lights has its pros and cons, so how do they stack up against each other?
Brightness is one of the most important measures. The brighter the light, the more likely you are to be seen. Many LEDs give off a very focused, narrow beam, which makes it important to position the light carefully, and take into consideration brightness from other angles.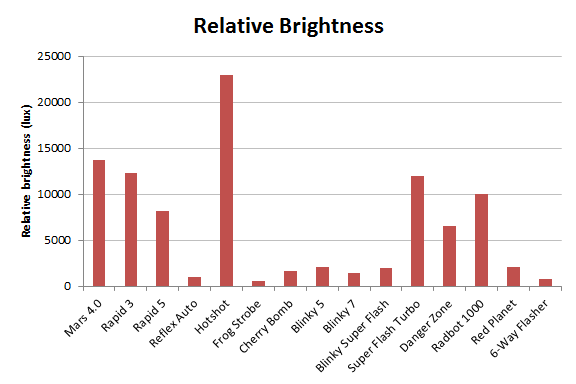 The graph above shows the relative brightness of each of the lights, using the value measured for straight-on brightness in the center of the beam. The Cygolite Hotshot far outshines everything else. The Blackburn Mars 4.0, Cateye Rapid 3, Planet Bike Super Flash Turbo, and Portland Design Works Radbot 1000 are all similarly bright lights near the top of the remaining lights.
So, of these lights in the 10,000+ club, what other factors should we consider? It's worth noting that the Rapid 3, although bright, has a very limited battery life (it runs off a single AA cell, instead of dual AAA cells like most lights). The Mars 4.0 has a slow blink pattern, which isn't as attention-grabbing as some of the other choices. The Super Flash Turbo and Radbot 1000 are similar in many ways. The Turbo is slightly brighter when flashing, but the Radbot is actually brighter in solid-on mode. I prefer the Radbot for its more varied flash patterns, extra mounting options included, and superior on/off switch. The Radbot is also cheaper.
If you're looking for the brightest light, the Hotshot is definitely your best bet, and if you purchase it online, can be found for less than the cost of the Super Flash Turbo. If you like being able to replace the batteries on the road, or need a more robust mount though, the Radbot 1000 is a great light as well.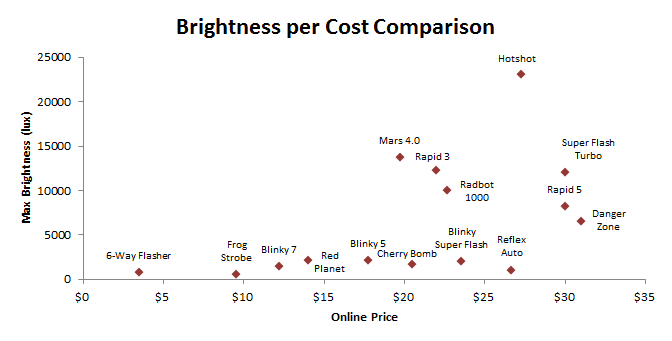 The brightness-per-cost graph shows the relationship between the maximum measured brightness and the online prices listed at the time of this writing. Higher means brighter; further right means more expensive. The best deals will be lights high up and towards the left.
The Cygolite Hotshot is high up on the chart, and on the slightly more expensive side (though not the most expensive). The Mars 4.0 is one of the best deals, at exactly $20 and high in the brightness scale. A few lights stand out as being a bad deal in the brightness vs. cost arena: the Reflex Auto costs as much as a hotshot, and is very dim. It appears that the venerable Blinky Super Flash (not to be confused with the Super Flash Turbo, which is expensive but also pretty bright) is also no longer a great value for its price: it's more expensive and dimmer than several of the other choices.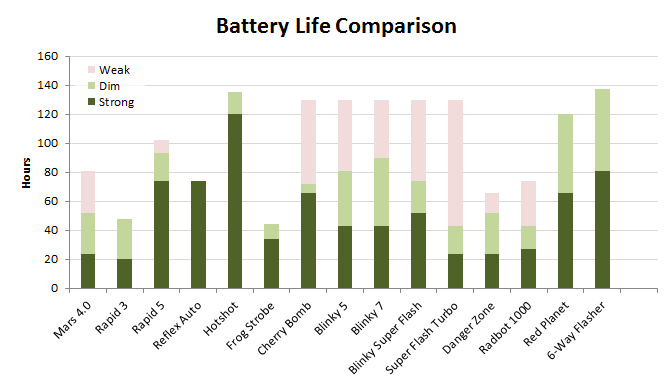 With the cost of batteries (not to mention the environmental impact of non-rechargeables), it's important to consider how long your light will last. For the battery tests, I set the lights to flashing mode, and checked on them approximately every 5 hours. I made a qualitative assessment of whether the light was still bright, had started to dim, or was nearly dead ("weak").
Surprisingly, a few of the lights lasted a week before dying out. The Cygolite Hotshot was again the champion, going 120 hours before even starting to drop in brightness. This is almost certainly thanks to its built-in lithium battery, with a much higher capacity than typical alkaline batteries.
In general though, brighter lights tended not to last as long (unsurprisingly). The Cateye Rapid 3 was the first to die, lasting only 20 hours before becoming almost useless. If it had been designed to be slightly larger and use 2 batteries instead of one, it may have fared better. The Frog Strobe was one of the worst in this category, lasting only 34 hours on its puny CR2032 batteries.
The Winners
Each of the lights reviewed has its own pros and cons, and there are a lot to choose from. Below are the best in three categories: Editor's Picks are the ones which struck my fancy, Best Value are those with the best features for the lowest price, and the Grand Master is the best light overall.
Editor's picks
PDW Danger Zone: Although it's a bit pricey, has annoying battery replacement, and is not really the best deal, I took a real liking to the Danger Zone. It's the only light with dual high-intensity LEDs, has eye-grabbing flash patterns, and seems pretty sturdy overall. (Full review)
Planet Bike Superflash Turbo: Also rather pricey, but the Turbo is a nice evolution of the original PB Super Flash we all know and love. It's incredibly bright, seems a bit sturdier than the old Super Flash, and works with any existing PB mounts. (Full review)
Best value
Blackburn Mars 4.0: At only $20 online ($25 MSRP), the Mars 4.0 is in the middle of the price spectrum, but is one of the brightest lights. I wish its flash pattern were a little more exciting, and the mounts are a bit fidgety, but if you're on a budget, this is one of the best choices at this price point. (Full review)
SE 6-Way Flasher: It's actually a pretty wimpy light (it was the 2nd dimmest), but because it only costs $4, its brightness-per-dollar ratio is incredibly high. The batteries also last a long time. If you bike at night with any frequency, this probably isn't a good choice, but hey - you could buy 3 of them and mount them in different places for the cost of a single Knog Frog, which is even dimmer. If you're really tight for cash, or only bike at night very rarely, this may be a decent choice, but you should probably get something brighter. (Full review)
Grand master
Cygolite Hotshot: In all of the categories of data measured, the Hotshot prevailed. It's the brightest, has the longest-lasting battery, has the most flash pattern options (which you can even configure yourself), and at $27 online ($40 MSRP) is even cheaper than a lot of the dimmer competition. Of course, it's not without its flaws - the plastic mounting mechanism is terrible, and the control buttons aren't easy to work with. Nevertheless, those minor downsides are far outranked by this light's superb performance. I can see its reflection as far back as there are reflective surfaces in a line of sight. In case you missed it, I gave it a very detailed review above. I highly recommend this light for just about anyone.
Final Thoughts
There are a lot of factors that go into choosing a good light. I've tried to explore most of them as well as I could here, but each cyclist will have his or her own needs and preferences. There are a few important things to keep in mind regardless of which light you choose:
Positioning: It doesn't matter how bright your light is if it's aimed at the ground or the sky. Especially with LED lights, the most intense beam tends to be very focused. Make sure to mount your light carefully so that it's facing towards the level a driver would see from, but just slightly above or below so as to not entirely blind them. As a good check, have a friend get on your bike, and then go sit in a car behind them and see how well you show up.
Flashing vs. solid: There's debate over whether a flashing or solid light is better for your safety. In some jurisdictions, flashing lights aren't permitted; in others, they're required. According to a very detailed answer on our site, research done by engineers at RPI (PDF) has shown that flashing lights are perceived as brighter, while solid lights make it easier to determine an object's location. It's therefore advisable to have both a solid and a flashing light. I would advise getting a bright (1W or brighter) light to use in flashing mode, and having a second cheaper light to run in solid mode. Using solid-light mode uses batteries faster than flashing (because the light is on all of the time instead of only intermittently), so a less-bright solid light may last about as long as a very bright flashing light. Paired together, you will get good visibility (from the flasher) but also make it easier for motorists to gauge your distance (with the solid light). The same study also noted that having multiple lights positioned in different places helps drivers gauge distance and position better as well.
Theft: bike lights are an easy target for thieves looking for something to quickly steal and sell. It always shocks me to see just how many bike lights could be easily grabbed from bikes which are otherwise locked up well, and I know many people who've had theirs stolen. Make sure to either take your lights with you, or use a mount which locks them in (like the rack mount for Cateye lights).
Good luck choosing your lights! If you have any questions about the review, or think we left any important ones out, leave your comments below.