Author Archive
Apparently there is a long tradition with a certain group that on the shortest day of the year (or nearest convenient day), there's a bicycle ride down the American River Bike Trail. This year I was invited along by the executive director of my local bike advocacy group (which I'm on the board of).
The trail is historical and beautiful. It was one of the first trails specifically made for bicycles in the US, and one of the longest purpose-built paved bike paths in the US. It's about 30 miles long and follows the American River from Folsom to Sacramento. It's essentially 30 miles of park with a nicely paved trail running the length of it, bridges where needed, etc. Lots of parks of various sizes along the way, from tiny little "one picnic table with a view" parks to big sprawling parks. Some of the parks have big parking lots, so if you don't want to ride the whole distance you can start there.
We used light rail to get from Sacramento to Folsom and then rode the downhill/downstream direction of the trail.
The day started at 5:45am, when my bike and I were picked up for a drive down to San Rafael. We met up with somebody, rode about a mile and met up with the truck that drove us to Richmond while we nervously watched the bikes jiggling around on the overloaded rack.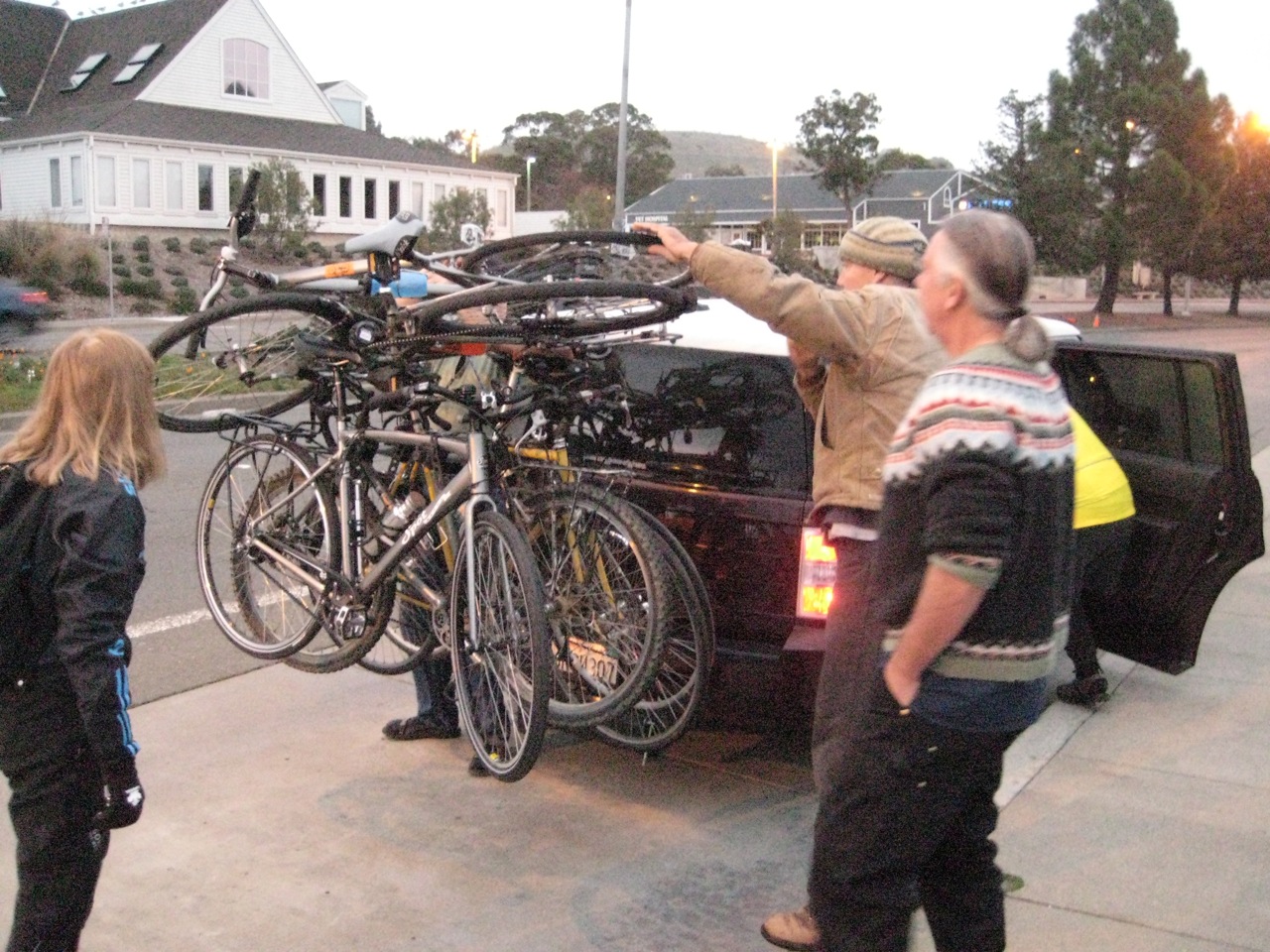 In Richmond, we got on Amtrak to Sacramento, then on a light rail to Folsom. Had a bit of breakfast on the Amtrak ride consisting of food people brought along, such as some homemade gingerbread and banana bread.
The usual tradition in this ride is that there's a rainstorm and epic suffering, but the weather was fantastic this year, so I put away both upper layers that I'd brought along and went until evening in shorts and a t-shirt.
After the light rail, there was a very short ride up a hill to our second breakfast, for kicking off the ride.
Then after that, a ride over to the trail, and off we rode.
Most of the trail is lightly shaded with trees and really quite pleasant.
Our ride ended in Old Town Sacramento, a historic tourist-attracting neighborhood that happens to be right next to the Amtrak station to get us back to Richmond. We got some dinner, a few of us got lost finding the train, got some cocktails at a bar on a boat, and caught the next train.